On May 10th, travel outside your county becomes possible due to a lowering of the Covid-19 alert level in the Republic. OpenStreetMap Ireland CLG directors are so pleased with this news that we are going to organise a very special mapping campaign, like none before.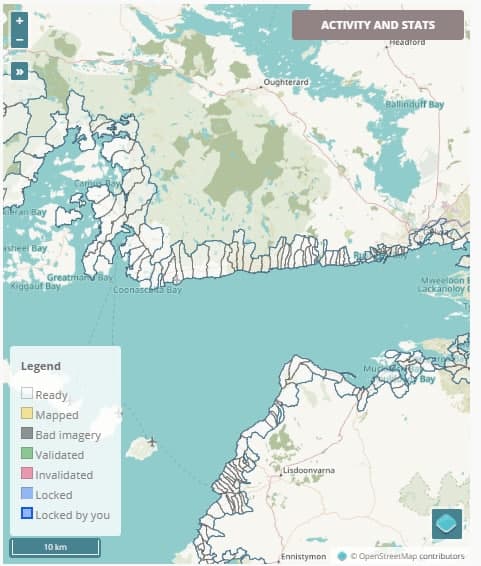 With Ireland opening up a little, and with the tourism sector hoping to re-start later in the summer, we think the opportunity now presents for a tourism mapping effort where most of us couldn't go for over a year – along the Wild Atlantic Way.
This is no small feat! The Wild Atlantic Way is over 2,600km long – one of the longest defined coastal routes in the world. Along its route, there are 2,372 townlands, so just imagine what the map would be like if they had all their features added like for example, buildings, amenities, parking spaces, land uses, woodlands, beaches and waterways. OpenStreetMap would become centrally relevant for tourists from home and abroad.
Phase one of this will start on May 10th with a Mapillary challenge. Simply upload 1,000 or more images along the way and we will send you a 32GB SD card, while stocks last. You should tell us your Mapillary username and address and we will post this to you. There is no end date, until the cards run out.
Phase two will start when the Mapillary imagery is captured. It will focus on mapping the WAW using the Mapillary imagery captured, and this will use the tasking manager and townland boundaries as a unit of mapping.
We will be mapping primary the missing buildings along the route, tying in to our OSM Ireland Buildings project, and if possible the route of the WAW. But that can also be added later.
The tasks are split into 4 (please be patient opening the projects, due to the large and complex nature of the townlands enclosed it takes a while to open 30 seconds or so):
#Donegal #Leitrim
https://tasks.openstreetmap.ie/project/81
#Sligo #Mayo
https://tasks.openstreetmap.ie/project/82
#Galway #Clare #Limerick
https://tasks.openstreetmap.ie/project/83
#Kerry #Cork
https://tasks.openstreetmap.ie/project/84
More information on tagging conventions can be found on the OSM Wiki.
Once you have mapped at least one tile, you can apply for a free sticker: https://www.openstreetmap.ie/osm-ireland-buildings-stickers/
For adding WAW relations please see our posts: