The mapping task for Co. Donegal as part of our ongoing #osmIRL_buildings campaign is very nearly finished. The task had been one of the first to be created at the start of the campaign in November 2019. However, it soon became clear that having too many tasks to choose from led to little progress, so it had been inactivated for some months.
Mapping in Co. Donegal got another push during our WildAtlanticWay mapping project (see below).
Due to the longevity of this task, validating using newer Bing imagery would be commendable, because as we all know, a mapper's work is never really done.
Some statistics
Buildings
The number of buildings during the duration of the #osmIRL_buildings campaign increased from 18.7 k to 164 k, according to ohsome.org/apps/dashboard.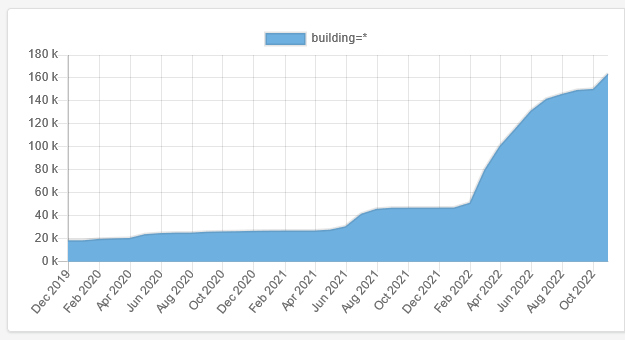 | | |
| --- | --- |
| building type | no. |
| yes | 104,970 |
| house | 34,067 |
| farm_auxiliary | 5,374 |
| industrial | 479 |
| commercial | 250 |
| retail | 228 |
| school | 177 |
| church | 148 |
Number of main building types in Co. Donegal
Highways
The total length of highways during the campaign increased from 8,273km to 10,649km, presumably mostly through adding highway=track and highway=service.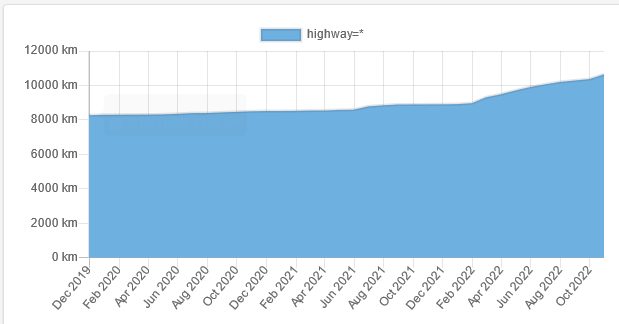 Tourism
Due to the mapping of features along the Wild Atlantic Way and general mapping, there was also some increase in tourism features, significantly in June/ July of 2021 which coincides with the WAW mapping project. A similar increase can be seen in the number of buildings (see above).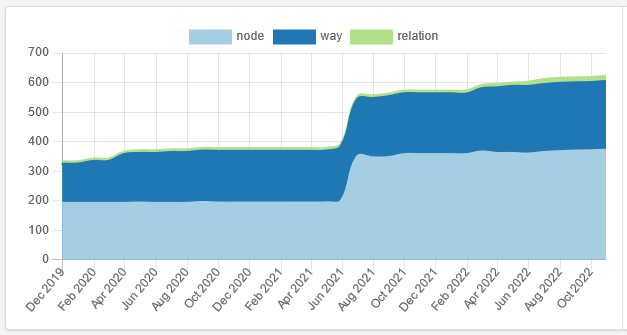 Random things (or are they?)
The number of archaeological sites (presumably mostly ringforts) went from 34 to 142.
The number of traffic calming features rose from 23 to 68 (traffic_calming=table/ bump are visible on Bing imagery!).
The number of mapped stop signs increased from 363 to 626 (STOP on roads also legible on Bing!).
The area of landuse=forest has decreased by 3km2, but natural=wood has increased by 16.8km2.
Thank you to every contributor which also includes people taking mapillary imagery!!!