The Connemara task was one of the retired/ archived tasks which had been taken out of retirement in March of 2023. The task comprised of vast moon-like landscapes (at least that's what it looked like on satellite imagery) with very few buildings, apart from abandoned / ruined farms. Quite a few buildings had already been mapped (see table below). Parts of Connemara were possibly mapped during the Wild Atlantic Way project, but additions and more details on the building tags were needed.
Some strange mapping was observed, particularly one previous mapper having blindly copied and pasted house shapes disregarding the house's actual size and orientation:
Students from UCC joined us again, but unfortunately, some of them seemed to not have read or watched any instructions beforehand, which resulted in quite a few corrections and invalidations. One mapper in particular had added name=house, name=lake, name=Minor Road to houses, lakes and unclassified roads. The filters in JOSM enabled the validators to find these mistakes easily, though.
Of course, we welcome new mappers and are willing to share our experience and advice with them. Luckily, the task manager provides tools for validation, and the more experienced mappers left comments with links to tutorials and other forms of explanation, but we don't know if these were even read due to the nature of college assignments.
This, however, resulted in the unusual high number of 28 contributors to the task.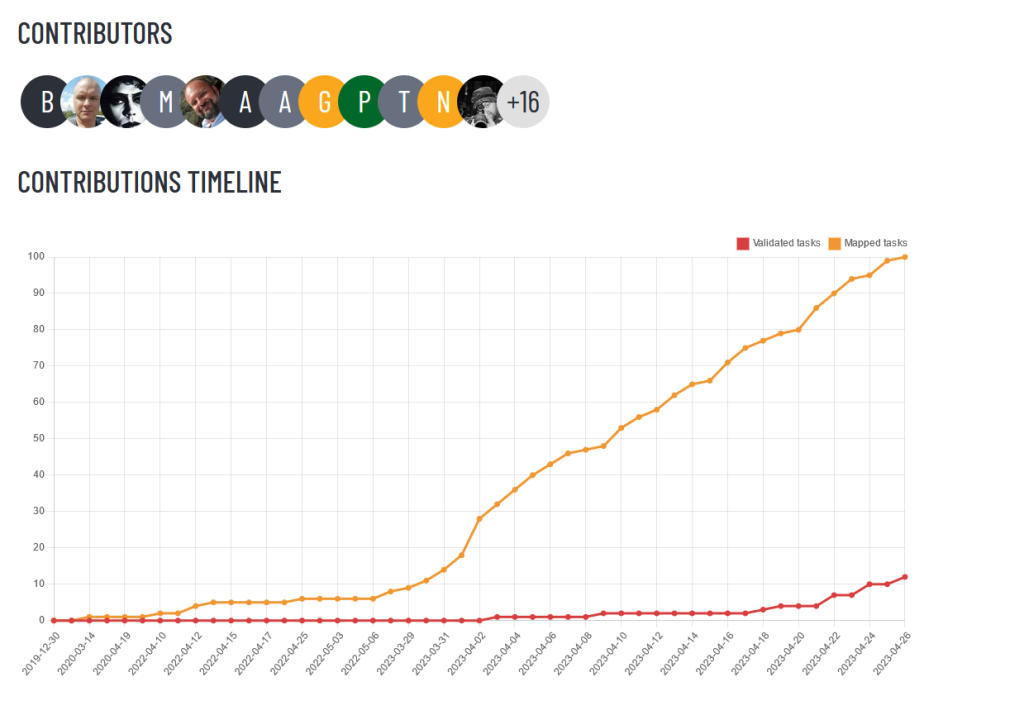 Thank you to all who contributed!
Progress with buildings
| building type | Nov 2019 | April 26th 2023 |
| --- | --- | --- |
| buildings in total | 11,400 | 18,900 |
| yes | 8,200 | 11,400 |
| house | 2,600 | 8,700 |
| terrace | 14 | 30 |
| detached | 39 | 39 |
| garage | 83 | 1,200 |
| shed | 41 | 2,300 |
| greenhouse | 4 | 9 |
| construction | 0 | 28 |
| industrial | 26 | 94 |
| commercial | 23 | 24 |
| retail | 18 | 56 |
| boathouse | 0 | 1 |
| farm_auxiliary | 4 | 476 |
| school | 30 | 54 |
| church | 19 | 36 |
| public | 0 | 1 |
| bank | 1 | 1 |
| ruins | 243 | 435 |
Breakdown of building types mapped since beginning of buildings project
Other things mapped
Some other things that were mapped during the task:
| Tag | Nov 2019 | April 26th 2023 |
| --- | --- | --- |
| leisure=slipway | 18 | 23 |
| waterway | 1,514 km | 1,557 km |
| highway | 3,022 km | 3,260 km |
| wall=dry_stone | 0.511 km | 1.1 km |
| tennis courts | 20 | 34 |
| highway=stop | 71 | 91 |
| traffic_calming | 14 | 34 |