As an initiative by Liamio2 and Anne (b-unicycling), the inaugural meeting of the Kilkenny History Mappers took place in the historical surroundings (difficult in Kilkenny not to have that) of Cleere's Pub. Present were the above mentioned as well as Martin C. (murtcostello), Patrick N. and Dan L. The first three are established mappers, the latter two have been spending time in the periphery of OSM, and both have a heritage background.
Martin's pet project is the mapping of current RC parishes in Co. Kilkenny (show on overpass-turbo) which he has nearly completed. He was also involved in the townlands project. He is very interested in genealogy and hopes to eventually map the RC parishes around 1900 using Canon Carrigan's "History of the Diocese of Ossory" and other sources.
He pointed out that most of the Protestant records were destroyed in the Four Courts, but there might be a chance to get some data from the Virtual Treasury, in case a family historian back in the day copied relevant records before the fire.
The OpenData dilemma came up several times, i.e. the lack thereof and the lack of knowledge about it in government institutions.
Liam is mostly interested in mapping the local history around his home place and has done so already: field names and benchmarks are his main focus. His homework will be to add cross road names and to map Blake's Castle.

The etymology of Tullowbrin Cross and Tullowbrin Road is also to be added under name:etymology.
Future project ideas
One future project for Co. Kilkenny is to track down missing tower houses (historic=castle + castle_type=towerhouse) using Carrigan's Oeuvre, which is unfortunately not available in an OCRed digitized form, as far as we know. This would make it much easier to just search for "castle" instead of having to read 3-4 volumes of Ossory history.
There was also talk about the mapping of high crosses and wayside crosses which Anne has videos planned for. The tags are already described on the wiki for historic=high_cross and historic=wayside_cross.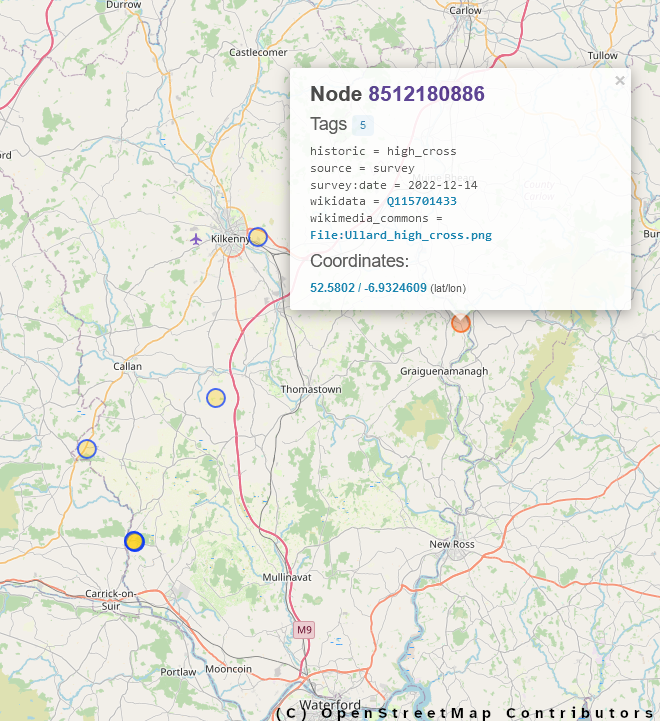 The idea of mapping mass paths briefly came up.
We probably all learned something new about old things which is never a bad thing.
The next meeting will likely take place in four weeks time on July 18th.